Categories:
Other Brands
Prada Two-tone Saffiano Leather Flap Wallet in Black and Sun
Style code: 1MH132_ZLP_F0L8P
Price: $690 USD, €520 EUR
Another batch of Prada goodies are up-for-grabs this season, ladies! And we're definitely sure that you'll love 'em…presenting, Prada Saffiano Multicolored Leather Flap Wallets, in different colors to choose from! If you're crazy about basic shapes and block colors, then these pieces are definitely for you. It appeals to most tastes, how simple or outrageous they may be.
This piece is made with only the finest leather, some strong and resilient material that's sure to stand the test of time. It also has snap closure, which is sure to keep all of your personal effect secure. Inside, it's even better – it has ten credit card slots, a coin compartment with zipper, and outside pocket with zipper closure, four document pockets, a bill compartment and (get this!) an extractable badge holder with chain that comes with two extra credit card slots! That was a mouthful, alright…'coz it's super organized!
Measuring 18.7cm x 9.5cm, you can get your very own Saffiano Multicolored Leather Flap Wallet via Prada e-store.
Prada Ayers Leather Flap Wallet in Black
Style code: 1MH132_0XP_F0002
Price: $1,005 USD, €760 EUR
Prada Two-tone Saffiano Leather Flap Wallet in Chalk and Black
Style code: 1MH006_2E26_F0N13
Price: $690 USD, €520 EUR
Prada Two-tone Saffiano Leather Flap Wallet in Red and Black
Style code: 1MH006_2E26_F0C9F
Price: $690 USD, €520 EUR
Tags: leather Prada wallet Flap MULTICOLORED
comnum(0) tbcount(0) tbcount(569)
Categories:
Christian Louboutin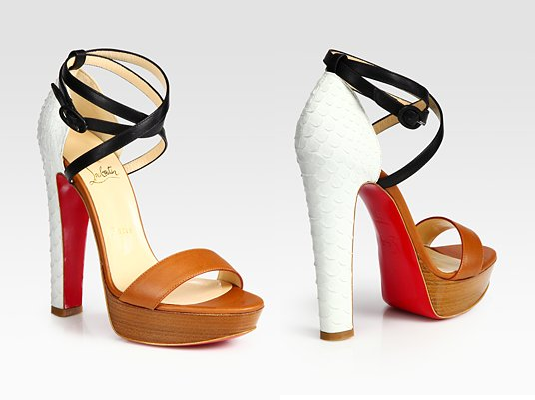 It's like Christian Louboutin took my favorite elements from his more wearable shoes (as in, not his super-tapered, sparkly stilettos) and ingeniously shook them all together. The outcome? A sandal that is totally sick! You've got a stacked platform, neutral colorblocking, sexy, crisscrossing ankle-strap, and a white python heel for a refreshing surprise when you walk away. And of course, the red sole, which reaches maximum prominence thanks to a thicker heel.
I can't drive a car with that snowy python heel, but I can deal with that. Hey, for a hot date night, I'm not driving anyway! But I won't be saving it just for those occasions. You might think something this spicy needs to wait for the nighttime, but I disagree completely. The tan-and-white color scheme is enough to make these 24-hour shoes –this palette is made to go with your entire summer wardrobe.
Pair with: Fool around with this color combination, and carry one of Prada's latest sensations. The Flame clutch, in black leather with a spicy burst of decoration, makes for a cool pairing.
Tags: leather Christian Louboutin Sandals Python Colorblock Platform
comnum(0) tbcount(0) tbcount(630)
Categories:
Other Brands
Are you looking for the perfect evening clutch (the kind that's super versatile and wearable with most outfits)? Well, we've got some exciting news for you…we're positive that we've got just the thing you need (like, seriously!). Introducing, the Saint Laurent Punk Python Embossed Leather Clutch! Don't be fooled by this pretty intense piece because it has lots of room for your evening essentials.
Measuring 9cm x 27cm x 2cm (H x W x D), you better not mess with the python. It has a front flap with snap button closure, which keeps all of your personal effects intact even as you get busy with the happenings. It also features the luxury house's iconic monogram, lock and key in silver charms – a perfect contrast between the black python exterior. Inside, it even has one leather pocket which gives you more room to organize. This is seriously one of the things you must consider in a bag, and the Punk Python is delivering!
Some days ago, we featured the Saint Laurent Classic Baby Monogram Punk Chain Bag. Both bags have locks with a striking similarity. You can check it out for yourself.
READ: Saint Laurent Classic Baby Monogram Punk Chain Bag
You can get your very own Saint Laurent Punk Python Embossed Leather Clutch for $990 USD or €695 EUR via Luisa Via Roma.
Tags: leather Clutch Saint Laurent Python EMBOSSED PUNK
comnum(0) tbcount(0) tbcount(501)
Categories:
Other Brands
Prada is one of the most important names within the luxury bags industry. This very famous brand produces some very popular and expensive purses, dedicated to stylish modern women who appreciate elegance, versatility and sophistication. From movie stars to politicians, every gal that knows a thing or two about fashion owns at least one Prada. Nowadays, it is a true symbol for superior style and refinement.
One of my favorite Prada model is the Prada Glace Calf fringed Leather Tote. This is a very unique and super-modern design that is perfect for those who adore to impress with their fabulous fashion sense. it goes very nice with city-chic outfits or with a cocktail attire. I simply love this gorgeous bag!
Out of the various color combos that Prada offes for the Prada Glace Calf fringed Leather Tote, I prefer the caramel one. For me, it is the perfect compromise between neutrals and extravagance. Is somewhere in the middle, where class and modernity go hand in hand.
This purse is perfect for carrying around your everyday essentials. It is very spacious, functional and versatile as it measures l. 27.0 cm X h. 21.5 cm X w. 18.0 cm and it has plenty compartiments. It can accommodate everything from office stuff to your child's things when you're picking him up from school.
The Prada Glace Calf fringed Leather Tote Caramel comes with a double leather handle that feels very comfortable and natural on your hand. Plus, it has a detachable adjustable leather shoulder strap that allows you to enjoy extra functionality when you need to have your hand free for carrying other important stuff, like groceries or luggage when you are travelling.
Always, but always an authentic looking Prada Glace Calf fringed Leather Tote Caramel will have palladium-plated hardware. This style of hardware has a very luxurious and elegant look, distinctive for Prada purses and every metallic piece on this product is stamped with the brand's name or logo.
On the front side of the Prada Glace Calf fringed Leather Tote Caramel replica bag there must be the leather triangle logo over a metallic base that has raised silver lettering. This is located between the arched rounded leather handles.
The Prada Glace Calf fringed Leather Tote replica bag should have two outside pockets that close with two silvery zippers, but the inside of the purse closes thanks to a snap closure that it located right on the top center. Besides the two outside pockets, the handbag also has two inside pockets that also feature a metallic zipper closure.
Before buying a Prada Glace Calf fringed Leather Tote fake purse, make sure you checkout the interior of the product very well. An authentic looking Prada bag should have a black Prada logo lining like in the below picture. Beware of imitations that have a different style of lining or color. Those will look totally fake.
As long as you follow the above directions for identifying a good quality Prada Glace Calf fringed Leather Tote replica bag, you are one step closer to buying the perfect imitation purse at a very decent price.
Tags: leather bag replica Prada Tote Calf Glace Fringed
comnum(0) tbcount(0) tbcount(586)
Categories:
Other Brands
Honestly, I was never really crazy about the Givenchy Antigona Clutch Bag, and with that I mean the original version.
You want to know how the original Antigona Clutch looks like? Well here it is:
It's flat, squared and it features the same Givenchy leather logo on the front. It also comes with a zipper, see above. It's all right, you know.
But here's the thing, the latest version looks much better. In fact, it's inspired by the Antigona Tote Bag and you will love it.
It has same shape at the large tote, two sides that are pushed out a bit, the center with leather signature logo on the front. It's like carrying the Antigona Tote Bag on your hands!
This bag comes with a leather wrist-strap on the zipper pull, it's the perfect bag for the evenings and when you're out and about and needs something small to store essentials.
Made from goatskin, it's measured at 14 x 18 x 11 (H x W x D) cm, priced at $695 USD via Luisa Via Roma.
Tags: leather Clutch Givenchy Antigona
comnum(0) tbcount(0) tbcount(805)
Categories:
Other Brands
Designed with a unique shape – curvy, tubby and so-minimalistic. This fashion brand is terrific at crafting accessories that's effortless and perfect to carry on the streets. Seek Burberry for street chic styles.
Now presenting the newest Burberry Banner Check Tote Bag, it's inspired by equestrian designs. Move to the sides to see the house check-panels, made from cotton canvas and they represent the brand's icon.
The bag opens and closes with a snap-button-closure and you will love the interior – one internal zip compartment, on top of that two extra compartments, one zip pocket, and two patch pockets. So how do you want to structure your essentials again?
Made from calfskin, measuring 24 x 33 x 13 (H x W x D) cm, priced at €1195 euro via Luisa Via Roma.
Tags: leather bag Burberry Banner Check
Categories

New Posts

Hot Posts